Sytze Pruiksma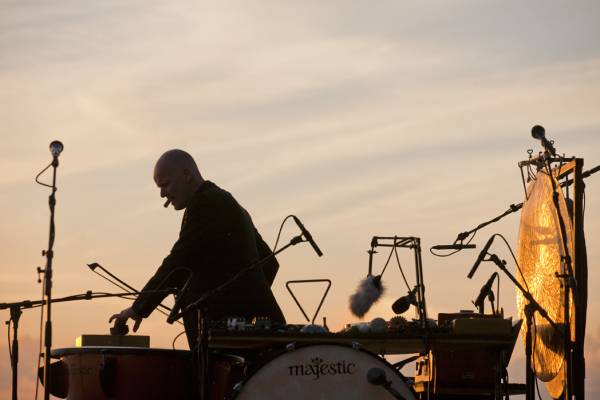 Photo: Gitte Brugman
BIOGRAPHY SYTZE PRUIKSMA
Sytze Pruiksma is a composer, sound artist and bird-watcher. Traditionally educated as a classical percussionist at the conservatory of Amsterdam. After having played as a percussionist in several orchestras like the Royal Concertgebouw Orchestra and the Dutch Philharmonic Orchestra (see below), he worked a lot in the theatre as a musician and composer (overview theatre projects).
Gradually he focussed more on his own projects, developing an authentic way of playing that is characterized by a great attention for timbre, inspired on landscapes, nature and birds. Resulting in 2008 in his first solo project LÂN (land), in which he translated these fascinations into film and music. The music was recorded with the Prague Philharmonic Orchestra and performed at several festivals in The Netherlands and on the New Island Festival in New York.
Beside his solo projects he collaborates with visual artists, filmers, poets, architects and scientists. Together with Theunis Piersma, professor global flyway ecology, he developed the program Music of Migration about global bird migration, which they performed several times in China (WWF), Portugal, Sweden and The Netherlands.
Together with the Kleefstra brothers (NL) and composer/pianist Greg Haines (UK) Sytze founded in 2011 the international improvisation collective The Alvaret Ensemble. The ensemble performs with guest artists from all over the world on an improvisational basis, for instance with pianist Nils Frahm, multi-instrumentalist Peter Broderick (US) and trumpet-player Eiríkur Orri Ólafsson (IS). Their first project 'Seeljocht' (2011) was an immediate success. It was developed and released by the festival Into the Great Wide Open (NL). It was followed by 'Skeylja' at the Oerol Festival 2012 (NL). In December 2012 their first record 'The Alvaret Ensemble' was released worldwide by Denovali Records.
Together with musician/sound engineer Dennis van Tilburg he forms SHIIIN. With their mobile sound installation on wheelbarrows they take the audience on a musical journey through the landscape and offer them the chance to experience the environment in a complete different way.
In March 2013 Sytze lost his friend and soulmate in arts Tsjêbbe Hettinga, one of the greatest poets of The Netherlands. Until then they performed a lot together, finding each other in improvisation inspired on birds and landscape. They were like one instrument on stage, a unique closeness you don't find every day. Together with organ-player Reitze Smits they created Wind Images, a performance consisting of poetry and improvisation for voice, percussion and church organ. In 2011/2012 the three of them toured along European churches as a part of the European Organ Festival (Connecting Arts).
Last but not least Sytze works from 2003 until now closely with the reknown Frisian singer NYNKE as a composer, producer and percussionist. In April 2013 her fourth album ALTER was internationally released by Crammed Discs. She created it together with Sytze and the acclaimed Spanish producer Javier Limón. That year they went on tour through The Netherlands, Germany, Belgium, UK and Spain. At the moment Sytze produces her fifth album WACHTER which will be released the 10th of June at the Oerol Festival in Terschelling.
-----
Orchestral background:
• Koninklijk Concertgebouw Orkest
• Radio Filharmonisch Orkest
• Radio Symphonie Orkest
• Nederlands Philharmonisch Orkest
• Barokorkest Concerto d'Amsterdam
• Amsterdam Wind Orchestra
• Noord Nederlands Orkest
• Wereld Jeugd Orkest
• Schleswig-Holstein Festival Orchester
• European Sinfonietta
• Metropole Orkest
• Nationaal Jeugd Orkest
• Utrechts Conservatorium Orkest
• Jeugd Orkest Nederland
• Nederlands Studenten Orkest
• Nationaal Slagwerk Ensemble